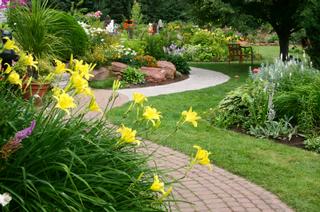 DO YOU GUARANTEE YOUR PLANT MATERIAL?
Yes. All trees, shrubs and perennials are guaranteed to be true to name, and in healthy growing condition. Trees and shrubs are guaranteed to live for a period of one year. Perennials, ground covers, roses, clematis and water garden plants are guaranteed until November 30. We will replace one time, any plant that does not survive, provided that it has received proper care and has not been damaged.
We are not obligated to replace plants that fail to grow due to neglect, extreme weather conditions, such as drought or water restrictions, or any plant that has been overwintered in a container. Marginal (tender), tropical, or annual plants are not guaranteed to overwinter in our hardiness zone (5b).
DO YOU INSTALL LAWNS?
Yes. As part of any ongoing landscape installation we will do lawn work as needed. We can also prep and install new lawns.
CAN YOU INSTALL ONE TREE?
Yes. Planting fee is 70% of total cost of the tree, with a minimum planting fee of $90. If area is not local, an additional zone charge is also required.
DO YOU MOW LAWNS?
No. Sorry we do not mow lawns. We are happy to recommend someone who can provide this service.
DO YOU INSTALL PATIO HARDSCAPE AND RETAINING WALLS?
Yes. We will install patio hardscape and retaining walls as needed.
DO YOU REMOVE DEAD TREES OR STUMPS?
Yes. We can provide you with a free estimate to remove any dead trees or stumps.
If there is a question you have that is not listed feel free to
fill out our contact form or call us at 616-682-4840.
There are varied legal online pharmacies. But several aren't drugstores at all. For instance Advair Diskus is used to treat asthma attacks. This medicament works by relaxing muscles in the airways to straighten breathing. Many people get online such remedies like Viagra. If you're concerned about sexual health problem, you probably know about "buy sildenafil" and "sildenafil over the counter". What is the most considerable information you must view about "sildenafil citrate 100mg"? More information about this matter available at "sildenafil online". Although the erectile dysfunction itself isn't necessarily severe, it is sometimes one of the early warning symptoms of other underlying health conditions that can be quite grave. Like all medicaments, Viagra have divers unwanted effects. Follow the directions for use on your prescription label.